POPPY CARESS PANSY SUCCESS

*

2023, video

07 mins

HD, 16:9, color, stereo

made with:

Mauricio Hölzemann

shown in:

COUPLE GOALS

11.05. - 16.07.2023

space n.n., Munich (de)

sounds:

Theresa Gavin

*

caresse coquelicot succès pensée

*

Mohn Streicheln Stiffmütterchen Gelingen
In the video work we take the theme of the exhibition (couple goals) to the content of our video. How did we get to know each other? What role does art play in our relationship? And: we want to take the chance to tell a queer love and give it space. Something we might not have been able to do in the past (even in our other relationships). Maybe we still can't today. But through an autofictional video, we are already getting closer to it.
(english)
Nous avons pris le thème de l'exposition (couple goals) pour réaliser le contenu de cette vidéo. Comment nous sommes-nous rencontrés ? Quel rôle l'art joue-t-il dans notre relation ? Nous voulons également saisir l'occasion de raconter un amour queer et de lui donner de l'espace. Quelque chose que nous n'avons peut-être pas pu faire auparavant (même dans nos relations antérieures). Peut-être que nous ne le pouvons pas non plus aujourd'hui mais grâce à cette vidéo autofictionnelle, nous nous en rapprochons.
(français)
In der Videoarbeit nehmen wir das Thema der Ausstellung (couple goals) zu dem Inhalt unseres Videos. Wie haben wir uns kennengelernt? Welche Rolle spielt die Kunst in unserer Beziehung? Und: wir wollen die Chance nutzen, eine queere Liebe zu erzählen und ihr Raum zu geben. Etwas, was uns früher vielleicht (auch in unseren anderen Beziehungen) nicht möglich war. Vielleicht können wir es auch heute noch nicht. Aber durch ein autofiktionales Video kommen wir der Sache schon näher.
(deutsch)
video stills: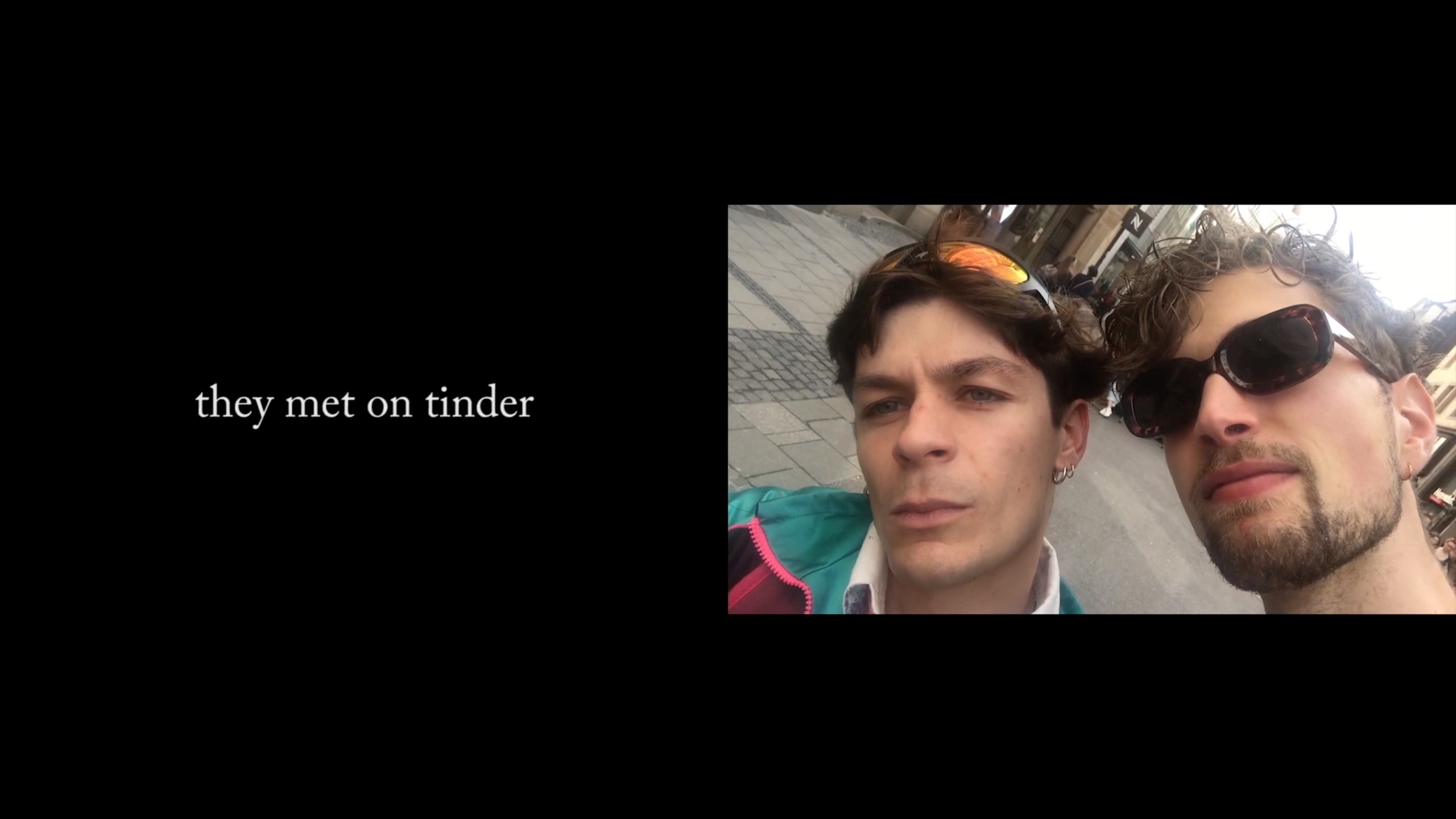 all rights reserved ©2023 Pierre-Yves Delannoy