I FELT YOUR FLEECE IN THE TIDAL VALLEY

*

2023, installation

variable size

wool, glazed ceramic, salt, water, hibiscus, light, hooks

shown in:

STERLING DARLING

25.04. - 27.05.2023

Kunstarkaden, Munich (de)

pictures:

Mara Pollak,

Pierre-Yves Delannoy

*

J'ai senti/feutré ta toison dans la vallée des marées

*

Ich fühlte/filze dein Vlies im Gezeitental
"The Svane towers are a typical structure in the villages of Svanetia, Georgia. They are inhabited stone defence towers, about 20-25m high and consisting of three to five floors. The myth of the golden fleece relates to a method of washing gold from streams, which was well attested in the region of Georgia to the east of the Black Sea. Sheep fleeces, sometimes stretched over a wooden frame, would be submerged in the stream, and gold flecks borne down from upstream placer deposits would collect in them. The fleeces would be hung in trees to dry before the gold was shaken or combed out. Some people claim that the word soldier itself comes from the Latin
sal dare
(to give salt), but mainstream sources disagree, noting that the word soldier more likely derives from the gold
solidus
, with which soldiers were known to have been paid."
(english)
"Les tours svanes sont une structure typique des villages de Svanetia, en Géorgie. Il s'agit de tours de défense en pierre habitées, d'environ 20 à 25 mètres de haut et comportant de trois à cinq étages. Le mythe de la toison d'or est lié à une méthode d'orpaillage dans les cours d'eau, qui était bien attestée dans la région de Géorgie à l'est de la mer Noire. Les toisons de mouton, parfois tendues sur un cadre en bois, étaient immergées dans le cours d'eau, et les paillettes d'or transportées depuis les gisements situés en amont s'y accumulaient. Les toisons étaient suspendues à des arbres pour sécher avant que l'or ne soit secoué ou peigné. Certains prétendent que le mot soldat lui-même vient du latin
sal dare
(donner du sel), mais les sources les plus courantes ne sont pas du même avis, notant que le mot soldat dérive plus vraisemblablement du
solidus
d'or, avec lequel les soldats étaient payés."
(français)
"Die Svane-Türme sind ein typisches Bauwerk in den Dörfern von Swanetien, Georgien. Es handelt sich um bewohnte steinerne Verteidigungstürme, die etwa 20-25 m hoch sind und aus drei bis fünf Stockwerken bestehen. Der Mythos des goldenen Vlieses bezieht sich auf eine Methode zum Goldwaschen aus Bächen, die in der georgischen Region östlich des Schwarzen Meeres gut belegt ist. Schafsvliese, die manchmal über einen Holzrahmen gespannt waren, wurden in den Fluss getaucht, und darin sammelten sich Goldflecken, die von flussaufwärts gelegenen Goldlagerstätten herabgetragen wurden. Die Vliese wurden zum Trocknen in Bäume gehängt, bevor das Gold ausgeschüttelt oder ausgekämmt wurde. Einige behaupten, dass das Wort Soldat selbst vom lateinischen
sal dare
(Salz geben) stammt, aber die gängigen Quellen widersprechen dem und stellen fest, dass das Wort Soldat eher vom goldenen
Solidus
abgeleitet ist, mit dem die Soldaten bekanntlich bezahlt wurden."
(deutsch)
documentation of the installation: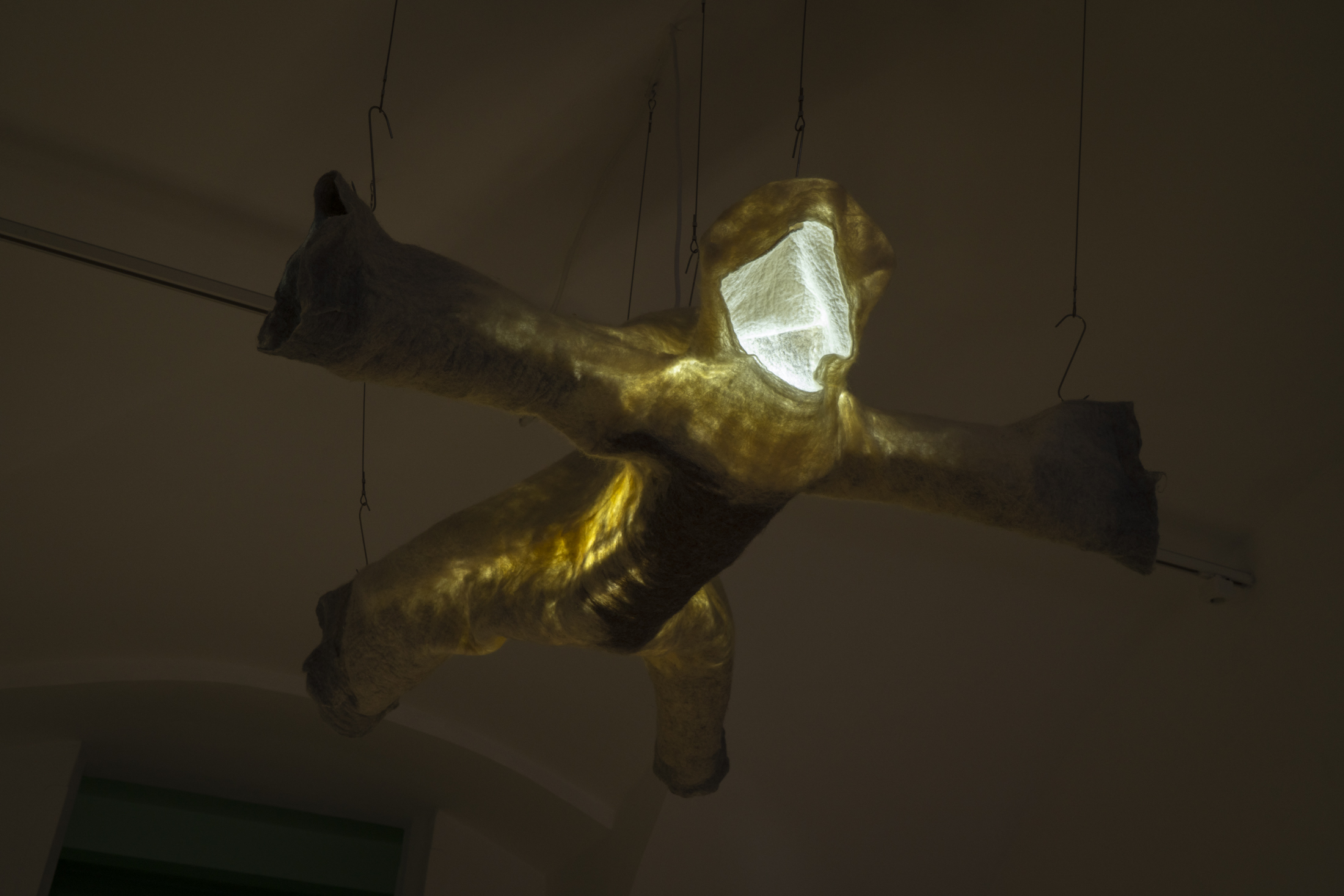 details of the installation:
(at the beginning)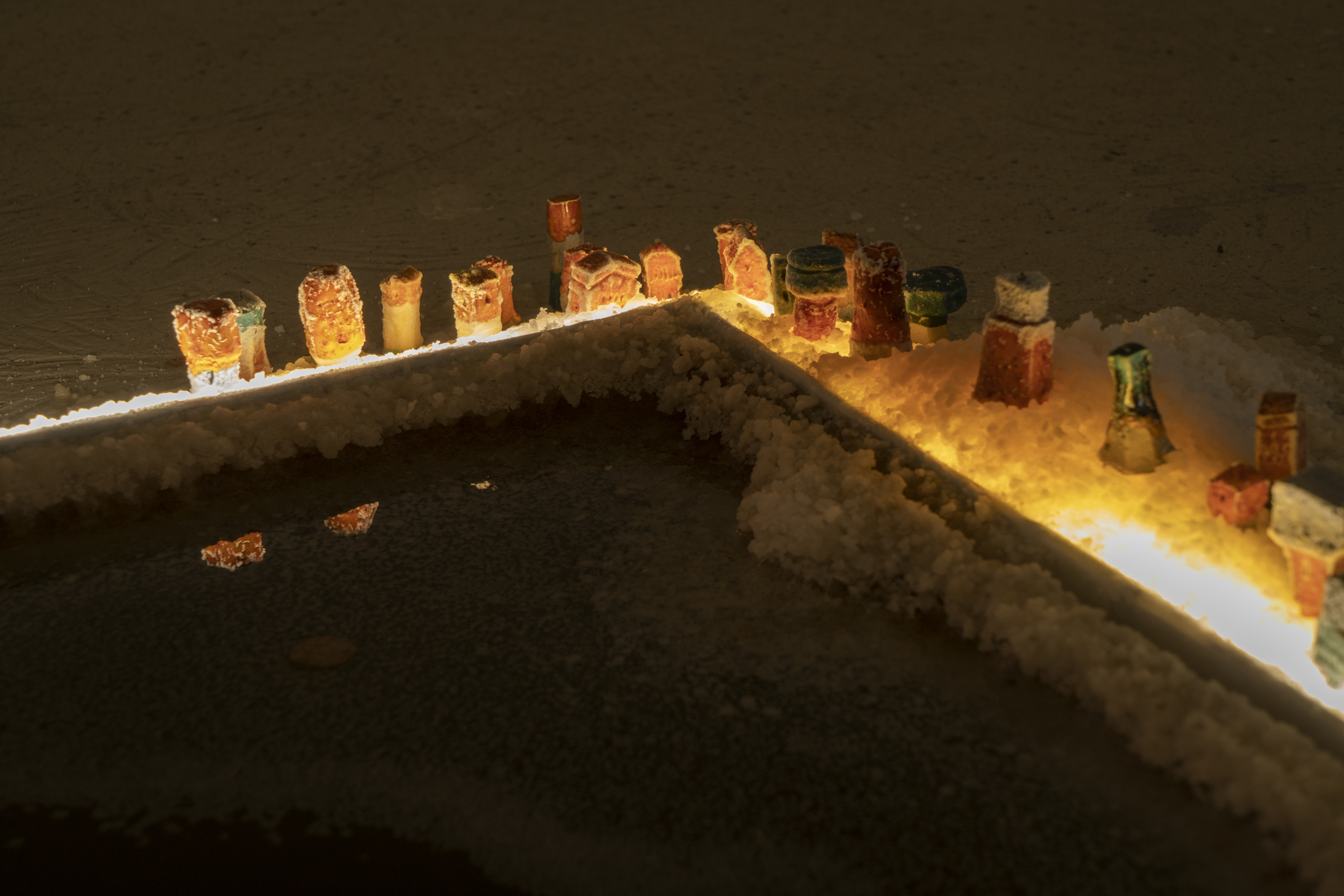 details of the installation:
(at the end)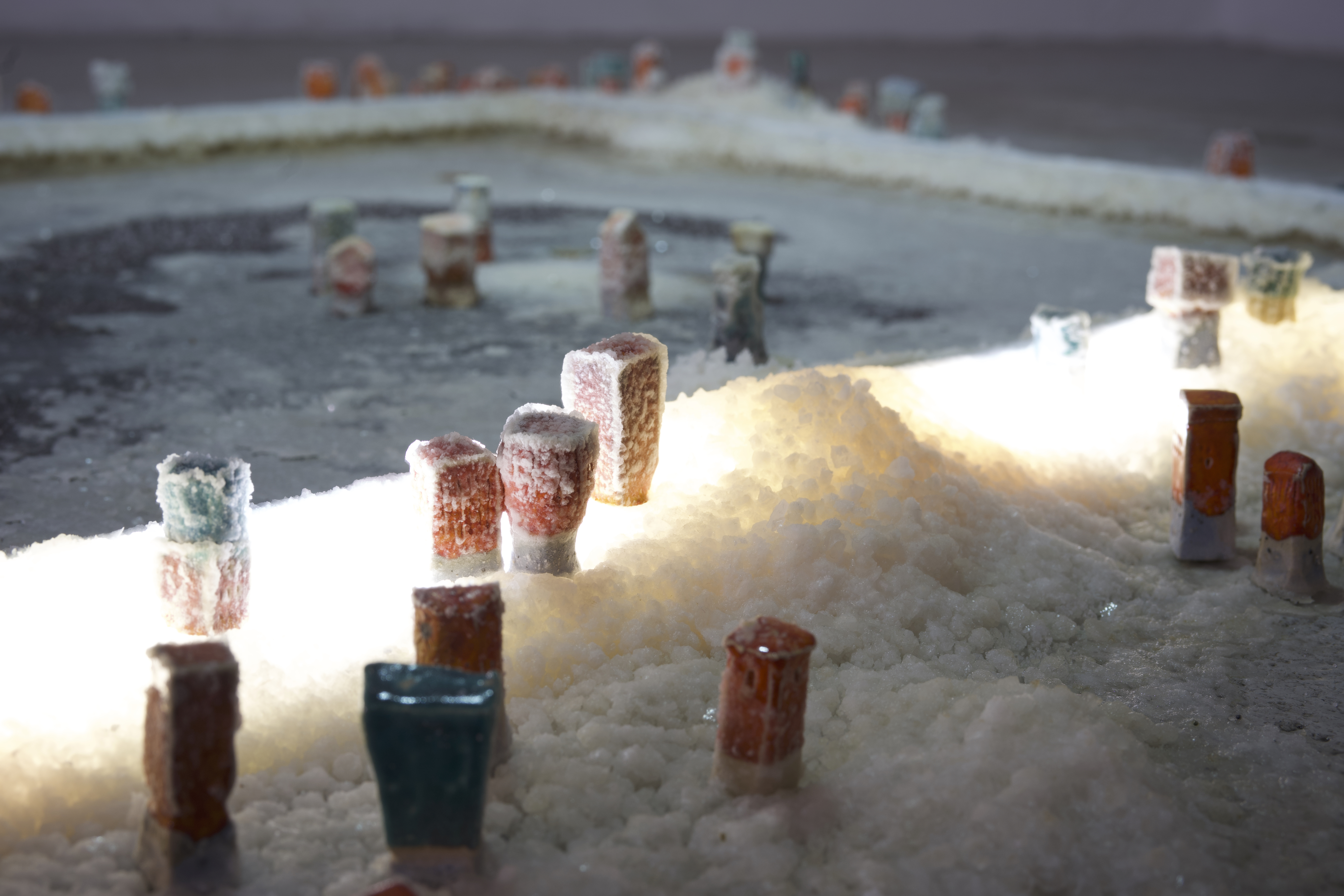 documentation of the exhibition:
exhibition text:
STERLING DARLING
Kunstarkaden
is located in Sparkassenstraße, which was named after the Sparkasse building in 1907. The street used to be a small canal, which carried small goods and rubbish around the city. Nowadays, it's surrounded by luxury shops, tourist center and banks. Five Munich-based artists would like to propose an artistic intervention, which reflects the past, present and future of money. Recreated countless times through the history, money has taken forms of shell, stone, feather, paper, metal, even cigarettes, yet the inherent value has never relied on material reality. Instead, it's a psychological construct, a mutual trust system and collective imagination. Through video, painting, sculpture, and installation, different perspectives will traverse the theme of value, (im)materiality, narrative contagion, labor, fraud, and especially the belief system of our society, which binds them all together.
(english)
STERLING DARLING
Les
Kunstarkaden
sont situés dans la Sparkassenstraße, qui a été nommée d'après le bâtiment de la Sparkasse en 1907. La rue était autrefois un petit canal qui transportait des marchandises et des déchets dans la ville. Aujourd'hui, elle est entourée de boutiques de luxe, de centres touristiques et de banques. Cinq artistes installés à Munich souhaitent proposer une intervention artistique qui reflète le passé, le présent et l'avenir de l'argent. Recréé d'innombrables fois au cours de l'histoire, l'argent a pris la forme de coquillages, de pierres, de plumes, de papier, de métal et même de cigarettes, mais sa valeur inhérente n'a jamais reposé sur une réalité matérielle. Il s'agit plutôt d'une construction psychologique, d'un système de confiance mutuelle et d'une imagination collective. À travers la vidéo, la peinture, la sculpture et l'installation, différentes perspectives traverseront le thème de la valeur, de l'(im)matérialité, de la contagion narrative, du travail, de la fraude, et surtout du système de croyance de notre société, qui les lie tous ensemble.
(français)
STERLING DARLING
Inspiriert vom Standort der Kunstarkaden in der Sparkassenstrasse haben die fünf in München lebenden Künstler*innen Chaeeun Lee, Eunju Hong, Jianling Zhang, Pierre-Yves Delannoy und Yuchu Gao das Ausstellungskonzept zu
Sterling Darlin
g entwickelt. 1907 wurde die Strasse nach der dort ansässigen Sparkasse banannt. Früher floss, wo sich sich heute eine asphaltierte Strasse befindet, ein kleiner Kanal auf dem Waren und Abfälle durch die Stadt transportiert wurden. Heutzutage ist sie von Luxusgeschäften, Touristenzentren und Banken umgeben. In der Ausstellung wird eine künstlerische Intervention durchgeführt, die die Vergangenheit, Gegenwart und Zukunft des Geldes reflektiert. Im Laufe der Geschichte hat Geld unzählige Male die Form von Muscheln, Steinen, Federn, Papier, Metall und sogar Zigaretten angenommen, doch der ihm innewohnende Wert hat sich nie auf die materielle Realität bezogen. Stattdessen ist es ein psychologisches Konstrukt, ein System gegenseitigen Vertrauens und kollektiver Vorstellungskraft. Mit Hilfe von Video, Malerei, Skulptur und Installation wird das Thema Wert, (Un-)Materialität, Arbeit, Betrug und die Auswirkung und Beeinflussung des Finanzarktes auf unser Leben aus verschiedenen Perspektiven beleuchtet.
(deutsch)
documentation of the felting process: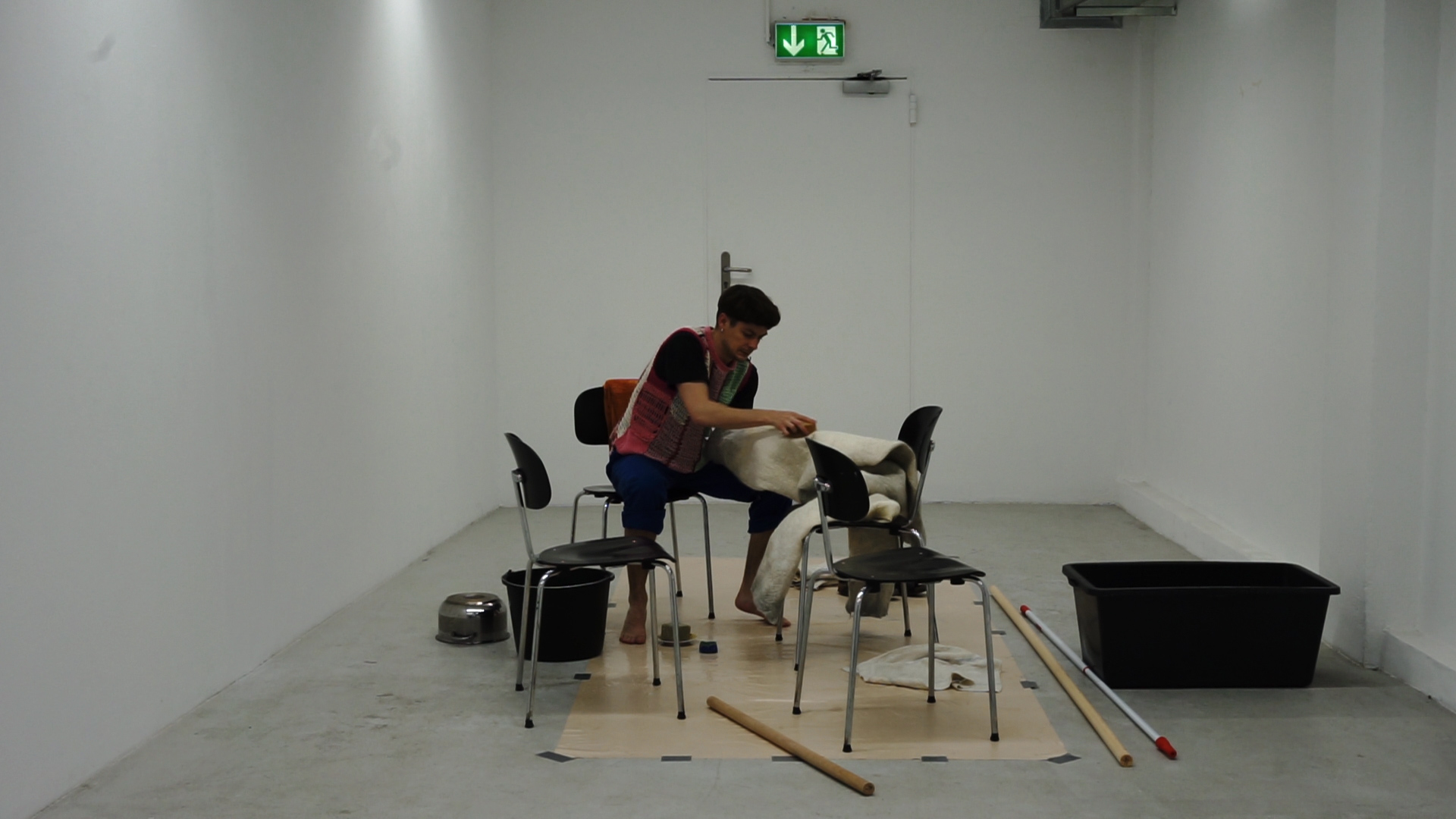 all rights reserved ©2023 Pierre-Yves Delannoy