A PICNIC UNDER COVER

*

2022, performance

45 mins

tea, cake, textil, ceramic, lard, metal, plastic

shown in:

_LMU

19.01.2023

Fakultät für Literatur, Munich (de)

_ZIMMER FREI 2022

12.10. & 16.10.2022

Hotel Mariandl, Munich (de)

_Karl&Faber Preis exhibition of nominees

11.09. - 17.09.2022

Karl und Faber, Munich (de)

_

ARIADNE'S GIFT

30.06.2023

Kontigentraum, Munich (de)

_

COMMON GROUND

,

POETICS OF HOSPITALITY, PART III

09.06.2022

het paviljoen, Ghent (be)

pictures:

Benina Hu,

Jandré Eli José,

Mauricio Hölzemann

camera:

André Chapatte,

Mauricio Hölzemann

*

un pique-nique sous couvert/ure

*

ein verdecktes Picknick
Before entering the garden of queens, you should know that it all started with a plate. In the wild forest, we will be like shells landing on the beach. After boiling together, we will absorb, hearing their roots.
A picnic under cover
is a ritual where it is not just humans who tell stories, where things are lost and can be rediscovered. Against the backdrop of a never-begun travelogue we will share something to eat and to drink.
(english)
Avant d'entrer dans le jardin des reines, il faut savoir que tout a commencé par une assiette. Dans la forêt sauvage, nous serons comme des coquillages atterrissant sur la plage. Après avoir bouilli ensemble, nous absorberons, en entendant leurs racines.
A picnic under cover
est un rituel où il n'y a pas que les humains qui racontent des histoires, où les choses se perdent et peuvent être redécouvertes. Dans le cadre d'un récit de voyage jamais commencé, nous partagerons quelque chose à manger et à boire.
(français)
Bevor wir den Garten der Königinnen betreten, muss man wissen, dass alles mit einem Teller begonnen hat. Im wilden Wald werden wir wie Muscheln sein, die am Strand landen. Nachdem wir zusammen gekocht haben, werden wir absorbieren, indem wir ihre Wurzeln hören.
A picnic under cover
ist ein Ritual, bei dem nicht nur Menschen Geschichten erzählen, bei dem Dinge verloren gehen und wiederentdeckt werden können. Im Rahmen einer nie begonnenen Reiseerzählung teilen wir etwas zu essen und zu trinken.
(deutsch)
installation views:
performance:
16.09.2022
performance:
30.06.2022
performance:
30.06.2022
performance:
09.06.2022
performance:
09.06.2022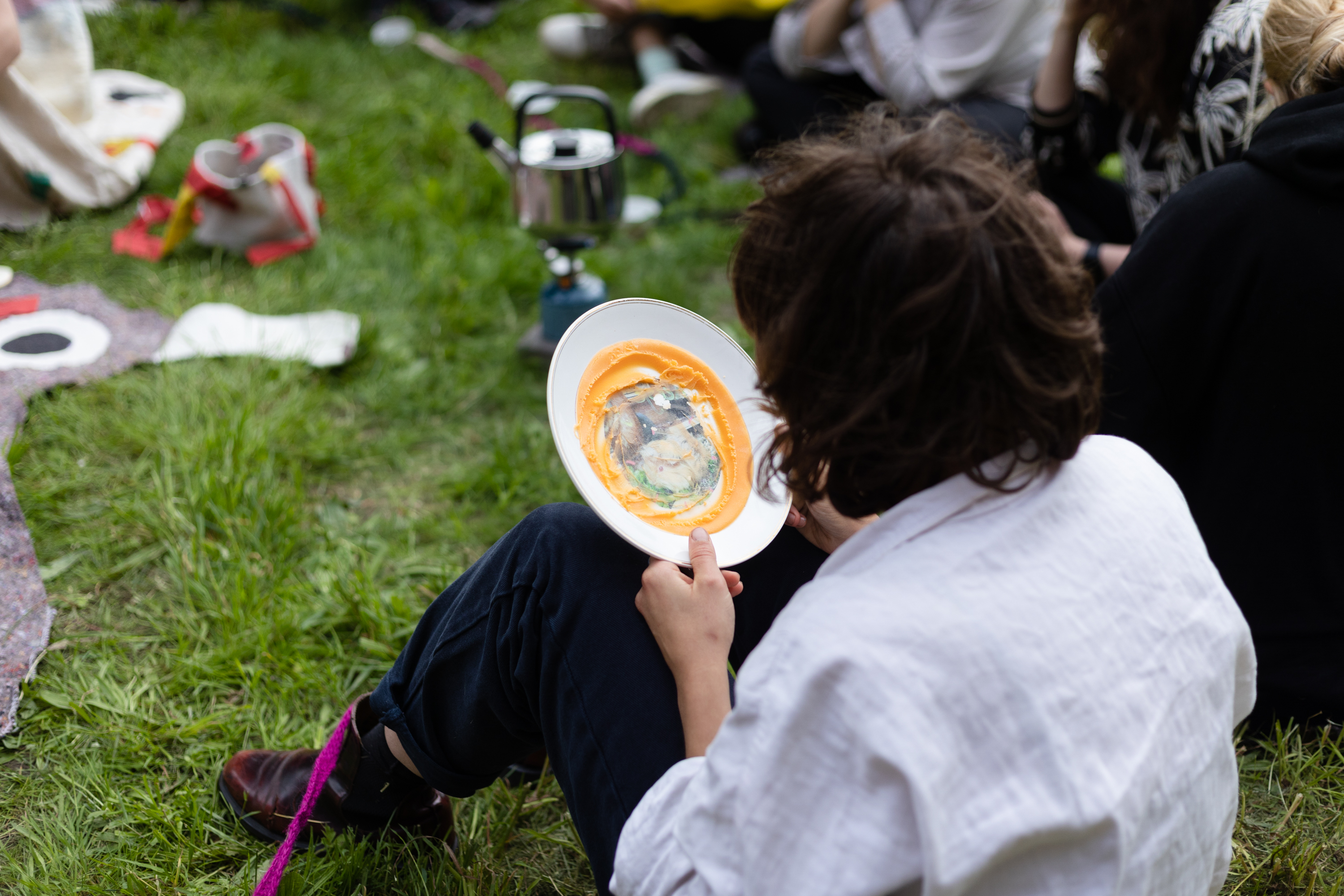 performance:
09.06.2022
performance:
08.06.2022
performance:
08.06.2022
all rights reserved ©2022 Pierre-Yves Delannoy