L'HABILLÉ HABITANT

*

2016, video, photography

07 mins 21

HD, 16:9, color, stereo

eggs, nettle, bread, textil, water, metal

pictures and camera:

Augustin Leblond,

Théo Griffon

*

the dressed inhabitant

*

der angezogene Bewohner
Make my apartment vomit.
Pack up / on oneself. Go / to the street, cross.
A world. / Hang laundry!
Besides what surrounds us. / Wrap your own suitcase!
Go away, through the worlds / and take your apparel.
In the forest of Versailles, under the noise of the trains, outside, a man passes, stops for a moment, at home and disappears.

According to some studies, we need a space about fifty centimeters thick around our body to feel comfortable. This is equivalent to ten square meters of clothing (a second skin), foldable, for moments of retirement or exile, anywhere.
(english)
Faire vomir mon appartement.
Faire sa valise / sur soi. Partir / dans la rue, traverser.
Un monde. / Étendre du linge !
Outre ce qui nous entoure. / Emballez votre propre valise !
Va-t'en, passe par les mondes / et prends tes vêtements.

Dans la forêt de Versailles, sous les bruits des trains, dehors, un homme passe, s'arrête un moment, à la maison et disparaît.
Selon certaines études, nous avons besoin d'un espace d'environ cinquante centimètres d'épaisseur autour de notre corps pour se sentir à l'aise. Ce qui équivaut à dix mètres carrés de vêtements, seconde peau, dé-pliable pour des moments de retraite ou d'éxil, en tout lieux.
(français)
Meine Wohnung zum Erbrechen bringen.
Koffer packen / auf sich selbst. Weggehen / auf der Straße, überqueren.
Eine Welt. / Kleidung ausbreiten!
Abgesehen davon, was uns umgibt. / Packen Sie Ihren eigenen Koffer!
Gehen Sie durch die Welten / und nehmen Sie Ihre Kleidung mit.
Im Wald Versailles, unter der Geräusche der Züge, draußen geht ein Mann vorbei, bleibt einen Moment stehen, zu Hause und verschwindet sich.
Nach einigen Recherche benötigen wir rund um den Körper einen Raum von etwa fünfzig Zentimetern, um uns wohl zu fühlen. Dies entspricht zehn Quadratmetern Kleidung, der zweiten Haut, die sich für Momente des Ruhestandes oder des Exils an jedem Ort zusammenlegen lässt.
(deutsch)
photography: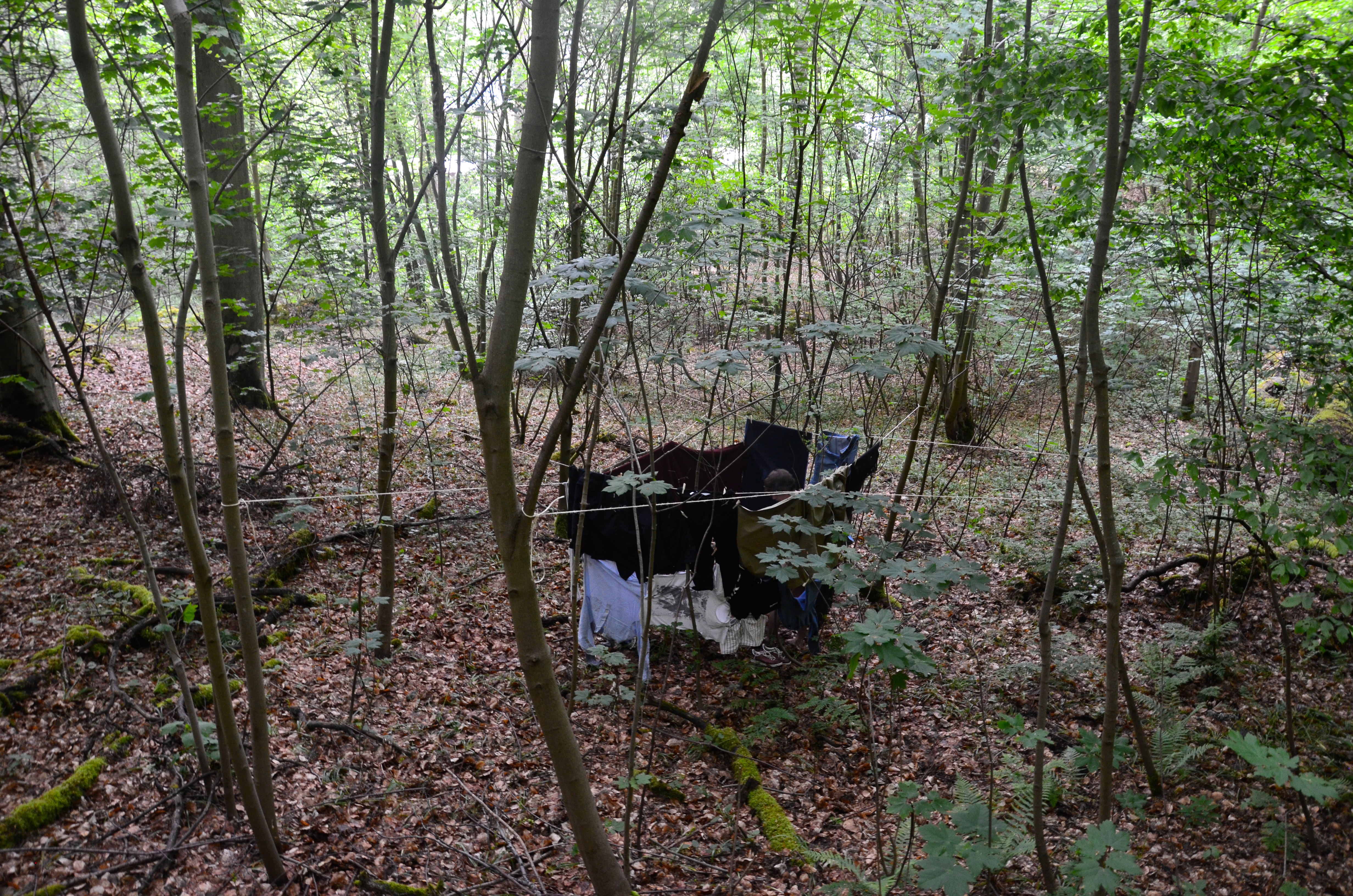 programm:
all rights reserved ©2021 Pierre-Yves Delannoy