CO PAIN

*

*

2020, performance

2*300 mins

flour, water, salt, yeast,

metal, coton, polyester, plastic, leather

shown in:

IN THE DARK TIMES WILL THERE ALSO BE SINGING?
YES, THEY WILL BE SINGING.
ABOUT THE DARKTIMES


01.08. - 02.08.2020

Blitz Club, Munich (de)

pictures:

Chaeeun Lee,

Pierre-Yves Delannoy

camera:

Felix Rodewaldt,

Pierre-Yves Delannoy

*

CO BREAD/PAIN or FRIEND

*

CO DOULEUR ou COPAIN

*

MIT BROT/SCHMERZ oder FREUND *copain :

du latin :

cum :

avec

panis :

pain

Celui avec qui l'on partage le pain.

Autrement dit:

un.e ami.e *copain:

from latin:

cum:

avec

panis:

pain

The one with whom we share bread.

in other words:

a friend *copain:

von Latein

cum:

mit

panis:

Brot

Denjenigen, mit dem man Brot teilt.

anders gesagt:

ein/e Freund/in
Over the course of two evenings (Plus-Floor, 1th and 2nd of August, 19:00 to 00:00): 90kg of flour, 45kg of water, 3,5kg of salt, 3,78kg of yeast have been used to build 15 doughs, wich have been dressed with accessories of leather, lace or chains. These 15 bodies were able to grow up to 3 times their size, producing a shapeless, united mass of about 140kg.
_You don't need to know all that! The little you should know you don't know. You write to me little, because too often you no longer think of me, slipping from image to image, shifting the movement, reading articles that you never finish, films that you never start. You don't read anymore, you see. You no longer listen, you hear. You no longer understand, you repeat. You are a reflective surface, a ping-pong table, a link in a chain that doesn't need you.
We are at war, he said.
_Touch me again! Space breaks up, time stands still. Stretching, blowing. Noise of the mill, of the grinding of seeds.
Like chariot chains, to the charm of our flesh. Like cocking guns, a marching army, a steady beat, people dancing to slow, mesmerizing techno. The grinding wheel and the Vinyl. Domestic me!
(english)
Au cours de deux soirées (Plus-Floor, 1er et 2 août, 19h00 à 00h00) : 90 kg de farine, 45 kg d'eau, 3,5 kg de sel, 3,78 kg de levure ont été utilisés pour former 15 pâtes, qui ont été habillées avec des accessoires de cuir, de dentelle ou de chaînes. Ces 15 corps ont pu grandir jusqu'à 3 fois leur taille, produisant une masse informe et unie d'environ 140kg.
_Tu n'as pas besoin de savoir tout ça ! Le peu que tu devrais savoir tu ne le sais pas. Tu m'écris peu, parce que trop souvent tu ne pense plus à moi, glissant d'images en images, mouvant le mouvement, lisant articles que jamais tu ne finis, films que jamais tu ne commences. Tu ne lis plus, tu vois. Tu n'écoutes plus, tu entends. Tu ne comprends plus, tu répètes. Tu es une surface réfléchissante, une table de pingpong, un maillon d'une chaine qui n'a pas besoin de toi.


Nous sommes en guerre, il a dit.

_
Touch me again!
L'espace se disloque, le temps s'arrête. Étirage, soufflage. Bruit du moulin, du moudre des graines.

Comme des chaines de chars, au charme de nos chairs. Comme des fusils que l'on arme, une armée qui marche, un rythme régulier, des gens qui dansent sur une techno lente et hypnotisante. La meule et le Vinyl. Domestique moi !
(français)
Im Laufe von zwei Abenden (Plus-Floor, 1. und 2. August, 19:00 bis 00:00 Uhr): Aus 90 kg Mehl, 45 kg Wasser, 3,5 kg Salz und 3,78 kg Hefe wurden 15 Teige geknetet, die mit Accessoires aus Leder, Spitze oder Ketten versehen wurden. Diese 15 Körper waren in der Lage, auf das Dreifache ihrer Größe zu wachsen, so dass eine formlose, vereinte Masse von etwa 140 kg entstand.
_Du brauchst nichts davon zu wissen! Das Wenige, das du wissen solltest, weisst du nicht. Du schreibt mir nicht viel, weil du zu oft nicht mehr an mich denkst, du von Bild zu Bild springst, Artikel liest, die du nie beendest, Filme suchst, die du nie beginnst. Du liest nicht mehr, siehst nur. Du hörst nicht mehr zu, hörst nur. Du verstehst nicht mehr, wiederholst nur. Du bist eine reflektierende Oberfläche, eine Tischtennisplatte, ein Glied in einer Kette, die dich nicht braucht.
Wir befinden uns im Krieg, sagte er!
_Touch me again! Der Raum zerfällt, die Zeit steht still. Dehnen, Blasen. Lärm der Mühle, des Mahlens der Samen.
Wie Wagenketten, zum Charme unseres Fleisches. Wie geladene Waffen, eine marschierende Armee, ein gleichmäßiger Beat, Menschen, die zu langsamem, hypnotisierendem Techno tanzen. Die Schleifscheibe und das Vinyl. Domestic mich!
(deutsch)
documentation:
process:
clothes for doughs:
during the performance: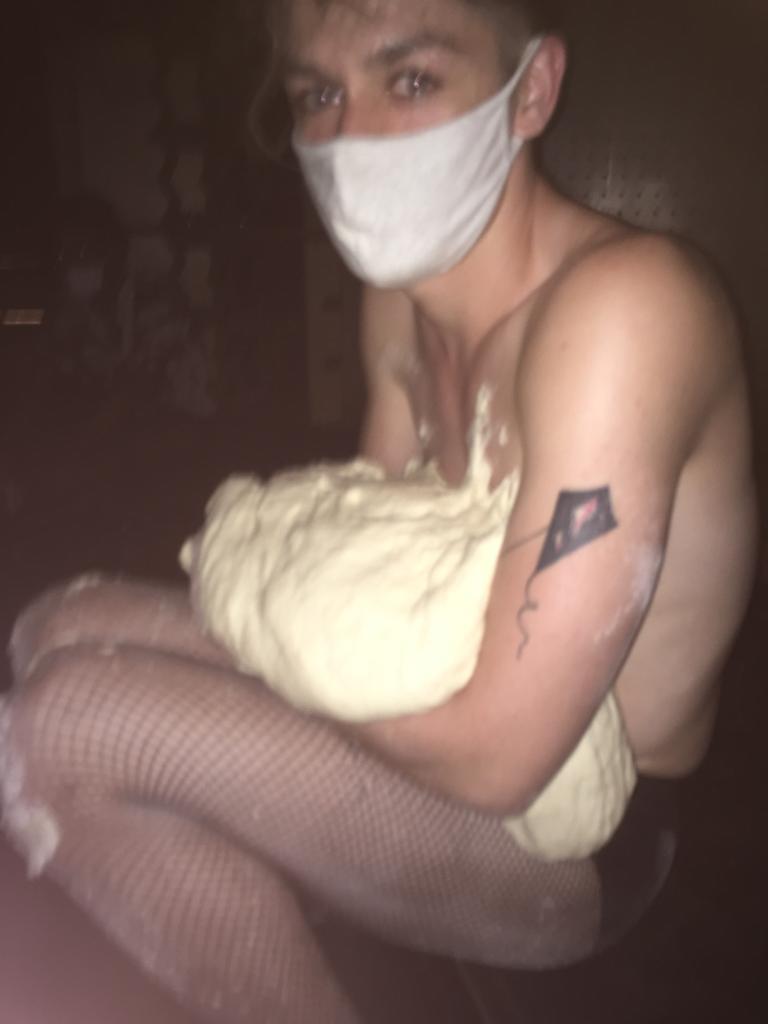 exhibition text:
IN THE DARK TIMES, WILL THERE ALSO BE SINGING? YES, THEY WILL BE SINGING. ABOUT THE DARKTIMES.
A non-space, a non-communication, no movement, no entertainment, no escape. The room, in which the Club existed, was an illusion-machine, it produced charged bodies and authentic emotions and no hard feelings. Now it is empty. But as an inner organ of a human society, it is defining itself to fulfill new functions. There is a moment in between, where the clubbers are lost and the music is hidden.
(english)
IN THE DARK TIMES, WILL THERE ALSO BE SINGING? YES, THEY WILL BE SINGING. ABOUT THE DARKTIMES.
Un non-espace, une non-communication, pas de mouvement, pas de divertissement, pas d'échappatoire. La salle, dans laquelle existait le Club, était une machine à illusions, elle produisait des corps chargés et des émotions authentiques et pas de rancune. Maintenant c'est vide. Mais en tant qu'organe interne d'une société humaine, il se définit pour remplir de nouvelles fonctions. Il y a un moment entre les deux, où les clubbers sont perdus et la musique est cachée.
(français)


IN THE DARK TIMES, WILL THERE ALSO BE SINGING? YES, THEY WILL BE SINGING. ABOUT THE DARKTIMES.
Ein Nicht-Raum, eine Nicht-Kommunikation, keine Bewegung, keine Unterhaltung, kein Entkommen. Der Raum, in dem der Club existierte, war eine Illusionsmaschine, er erzeugte aufgeladene Körper und authentische Gefühle und keine harten Gefühle. Jetzt ist es leer. Aber als inneres Organ einer menschlichen Gesellschaft definiert es sich selbst, um neue Funktionen zu erfüllen. Es gibt einen Moment dazwischen, in dem die Clubbesucher verloren gehen und die Musik verborgen bleibt.
(deutsch)
all rights reserved ©2021 Pierre-Yves Delannoy